The Ferguson Valley is one of the most beautiful natural regions in Western Australia.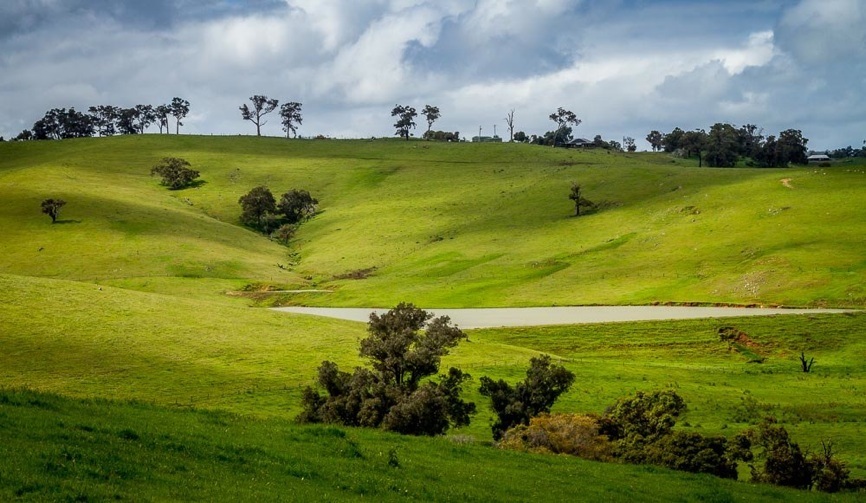 Relax around the cottages or experience a myriad of tourist attractions, restaurants, and wineries. There is so much so see and do around the wonderful Ferguson Valley.  Come and spend some time in this amazing area and enjoy some of the interesting, informative and just plain quirky things on offer.
At Wellington Food, Wine & Cottages you can be as active or relaxed as you want.  Get up in the morning and go for a quiet walk around the grounds, watch the wildlife come to life and great the new day.
We have walks that will take you 5 minutes or 5 hours depending on how energetic you feel. Enjoy the spectacular Wellington Forest National Park. The Wellington Discovery Centre is just across the road and is a great place to learn more about the bush.
We have the Mundi Bindi mountain bike track run through the property and we are only 5 minutes away from the Mt Lenard bike tracks, so if mountain biking is more you thing, you can ride for hours (or even days) from your cottage.
The kids have room to run and be kids here. Playing in the creek, patting the kangaroos, kicking the footy and just having fun. It is a safe fun place for kids to play.
If all this sounds to energetic, stop off at one of the wineries on the way here, pick up a nice bottle of wine and enjoy watching the sun go down over the trees on your own private veranda.
No day is complete here without heading out at night to enjoy the stars – they are amazing and bright here or going to a spotlight to see our night time animals
Apple Fun Park Donnybrook
In the words of our 7 year old – "this playground is awesome!" It is huge! They say that it is the largest free entry playground in Australia.
The Apple Fun Park was built as a community project in the town of Donnybrook, which is on the South West Highway about 1/2 hour out of Bunbury (and 2.5 hours south of Perth). Donnybrook is famous for its apple growing, so the park has a fruit theme.
It has everything you could want in a playground plus more. There is a toddler area with lots of low ride-on animals and kiddie swings, a preschoolers climbing and slide area and a huge piece of playground equipment with four-level towers and slides, rope bridges and flying foxes. There is also a spacenet, some low rock climbing walls and more swings. To keep the parents fit, there is also an adult friendly area that has gym circuit type exercise equipment made of metal that you and the kids can use to have a workout (pretend or otherwise).
Along the side of the play equipment are three huge shade sail gazebos that cover the picnic tables and bbqs, and a grassed area to sit. The toddlers area has shade sails over it, but the rest of the playground does not. The whole park has a fence around it, to keep everyone safe.
Bunbury Dolphin Discovery Centre
Bunbury Dolphin Discovery Centre is Australia's premier dolphin experience.
The centre provides four levels of interpretation, including Dolphin Swim Tours, Dolphin Eco Cruises, interpretive centre and interaction zone, where wild dolphins frequently visit for an up close and personal experience for our beach visitors.
The centre supports education, conservation, research and tourism.
Relax on our al fresco deck, talk with our friendly staff and volunteers, and touch some local marine creatures from our discovery pool.
Koombana Drive, Bunbury, WA, 6230
Website: www.dolphindiscovery.com.au
Dardanup Bull and Barrel Festival
Come for the sights, sounds, tastes and fun, stay for the evening.
The Dardanup Bull and Barrel Festival with free entry is proudly brought to you by the Dardanup community as a celebration of the diversity and vibrancy of the region.
The 2010 festival theme is Spanish Fiesta highlighted with Spanish dancers, music, food and wine. In addition, see West Australia's top sprinters compete for $6500 in the Dardanup Gift.
Watch the action of the remote control cars, admire local art and peruse the many market stalls. Sample local produce cooked to perfection by South West chef Julie Lawrence and delight in the children's activity marquee and free animal nursery.
Something for all ages during the day and at night watch the festival's spectacular finale—the lighting of the fire sculpture, created by well-known artist Russell Sheridan. Hear the crowd road as the "bull" burns.
Dardanup Townsite
The name 'Dardanup' is derived from that used by the original Aboriginal inhabitants, meaning low lying ground by the water. European settlement began with Thomas Little (1838).
Heritage Walk 2klms approx 1-2 hours: 1. Thomas Little Hall (1852) 2. Hosea House of Prayer (1922) 3. Church of Immaculate Conception (1937) Ferguson Road 4. Pioneer Cemetry (started 1850) behind Catholic Church 5. St Mary's Anglican Church (1906) Boyanup Road, Picton 6. Dardanup Tavern (1905) Charlotte Street 7. Dardanup Store (1902) Charlotte Street 8. Dardanup Post Office (1895) Cnr Charlotte St & Ferguson Rd 9. Don Hewison Centre (1897) Ferguson Road.
Eaton Foreshore
With great access to a wide variety of water activities, Eaton is the waterside gateway to the Ferguson Valley.
There is a well-used walk trail along the foreshore, which is perfect for a leisurely stroll and taking in the scenic surroundings. For those who would like to go for a trip on the river, a boat ramp is available. There are lots of opportunities to explore the river, or catch some fresh fish for dinner. Crabbing is another popular activity.
The Collie River Estuary is the favoured location for fishing and crabbing. The foreshore along the Collie River is an ideal picnic spot, with playground equipment for the children and lots of shady lawn areas. This is a popular picnic spot for families. There is a caravan park on the banks of the Collie River near the sea which has self or semi-contained cabins, caravans and tent sites for lease.
Eaton Foreshore Walk – Follow along the banks of the Collie River from the Old Coast Road Bridge to the Scout Hall. Approx 3kms easy walking.
Millbridge Walk – Follow the pathways along Millars Creek from the bridge, either to the right or left for approx 1klm. Easy walking and suit wheelchairs. Access is from Swan St to the north.
Featured Wood Gallery & Museum
Visitors love our new Gallery which is very spacious and showcases a wide variety of craft and furniture pieces made on the premises or by local artisans.
There is also a range of art work in different mediums by artists from the region.
Tourists love the small unique craft items to take home and remind them of this magnificent part of Australia.
Tables – Small & Large; TV Cabinets; Bed Heads; Wine Racks; CD/DVD Racks; Mirrors; Clocks. We make furniture to suit customers' requirements. We use locally sourced jarrah, marri, sheoak and other varieties of timber.
The Museum (which gets a WOW on entry) focuses on Australian and American History.
There are larger than life displays on Ned Kelly, Woodworking, Local Aboriginals, the Bunbury Jetty, American Indians and the US Civil War.
12 Piggott Drive, Australind, WA, 6233
Website: www.featuredwoodgallery.com.au
Gnomesville
Located by the roundabout at the junction of Wellington Mill and Ferguson roads, Gnomesville is the magical home to over 3000 Gnomes who have migrated there from all over Australia and around the world.
Plan to spend a few hours wandering through the villages and glades full of playful, naughty and sentimental gnomes climbing logs, hanging out in trees, playing cricket, even flying planes! You'll enjoy the clever Gnomish puns and who knows, you may decide to return to contribute a Gnome of your own.
Don't be tempted to take home a souvenir, however, as Gnoman legend has it that bad luck will surely follow!
Wellington Mill and Ferguson Roads, Wellington Mill
[/elitetoggle][/eliteaccordion]
Food and wine
Enjoy some of the best food and wine in the South West
A visually spectacular backdrop plays host to an emerging wine region with many cellar door tastings on offer. Appreciate the winemakers skills as you enjoy internationally recognised award winning wines and a variety of blends offered by boutique wineries.
Don't forget the local breweries offering boutique beers brewed on site. This is a must do when visiting the Ferguson Valley.
Hackersley Estate Wines
Our new restaurant and barrel store provides the Ferguson Valley with a top quality tasting and eating experience.
Hackersley's goal is to produce top quality wines both red and white varieties. The vineyard has been designed to support the fruit that is necessary to achieve this objective.
Located at the vineyard on Ferguson Road in the beautiful Ferguson Valley our tasting rooms and restaurant offer the opportunity to soak up the local atmosphere and fare. Try our fine wines and tantalise your taste buds with the offerings from your hosts Aaron and Adrie Devitt.
Hackersley's menu changes with the seasons and has already proved to be popular with the locals and visitors alike. Restaurant bookings are recommended.
Perfect venue for weddings, corporate & social functions.
Ferguson Road, Ferguson WA 6236
Website: www.hackersley.com.au
Bushshack Brewery
A family run business located in the heart of the picturesque Ferguson Valley just 8 kms from Dardanup township.
The limestone and western red cedar building utilises 8 different timbers in it's construction. The use of Marri, Jarrah, Tuart, Wandoo and American Oak timbers create a warm and inviting environment.
Sit round the log fire or enjoy a meal on the large decked area or grassed terraces.
The children (both big and small) are well catered for with a large grassed area that runs from the terraces to a winter creek. They can kick a footy, have a game of cricket or bocce or merely take in the ambiance that is the Ferguson Valley.
Whatever you a looking for, we're sure you will enjoy a visit to the Moody Cow Brewery.
Ferguson Road, Ferguson WA 6236
Website: www.moodycowbrewery.com.au
St Aidan Wines
St Aidan is a small, family run vineyard situated in the heart of the Ferguson Valley in the newly emerging Geographe Wine Region.
The 10 Ha property was purchased in 1991 and was planted with citrus trees, table grapes, and wine grapes (1998). The wines are made at Juniper Estate by Mark Messenger and most have won silver or bronze medals at the Geographe or WA Mt Barker wine shows.
St Aidan wines are only available at the cellar door, by order, or at selected restaurants. The Cellar door is 7.5 km from Dardanup on the "Ferguson Loop" which is a unique and beautiful drive full of attractions. Guests are welcome to use the picnic facilities under the peppie trees beside the Ferguson River.
754 Ferguson Road, Dardanup WA 6236
Website: www.saintaidan.com
Ferguson Hart Estate
Ferguson Hart Estate Trophy Winning Wines all made from the Fruit of the Estate.
The Cellar Door and Art Gallery is a gorgeous place to visit with views over the vineyard and valley, a lovely ambience and friendly service.
Corner Pile Road & Gardincourt Drive, Ferguson Valley WA 6236
Willow Bridge Estate
Willow Bridge Estate is an exciting and significant new addition to the World Wine Industry.
In less than a decade, the Estate has produced an impressive array of outstanding wines, most notably the classic Black Dog Shiraz.
The vineyard is a family owned business that is operated by principals Jeff and Vicki Dewar, who bought the picturesque 180 hectare hillside property in 1996.
From day one, the family shared a vision to produce premium quality varietal wines for domestic and international markets.
The estate is located in a hidden jewel of the wine-making region of south west Western Australia called the Ferguson Valley. The environment, climate and soil types sets the area apart from the more traditional wine-growing regions of the State and provides for an environmental combination never previously utilised for the production of premium wines.
178 Gardincourt Drive, Dardanup WA 6236
Website: www.willowbridge.com.au
Natural beauty spots

Crooked Brook Forest
A forest for all people – a forest for all seasons.
Come explore the magnificent jarrah forest by foot, wheelchair, bus or car. Stop and have a picnic amongst the wildflowers near the billabong, or venture off on the longer walking tracks. Take in the magnificent views, endless wildflowers, and keep an eye out for the wildlife!
There is ample parking for buses, cars and caravans, information, toilets, picnic tables and a path to suit wheelchairs.
10 km from Dardanup off Crooked Brook Road * 4 walk trails including wheelchair path
Honeymoon Pool
Honeymoon Pool is a picturesque camping and picnic area set alongside the Collie River.
As the name implies it is both a romantic and fun place to camp or visit for a picnic. Set among the beautiful yarri (blackbutt) and graceful peppermint trees of this ancient valley, it is ideal for visitors intending to take a bushwalk, canoe the river, or take a dip, and is centrally located to a number of other recreation sites.
Facilities include fully-accessible toilets, wood barbecues, camp kitchen, central rubbish pick-up area, picnic tables, untreated tap water and if you need supplies or a treat, the Wellington Dam kiosk is only a few kilometres away .
Campsites are available on a first in, first served basis and cannot be booked.
For more information about recreation in the Wellington National Park and a map of the area, view their brochure (pdf format): http://www.calm.wa.gov.au /national_parks/wellington/pdf/recreation_sites_wellington.pdf Information and photo courtesy of CALM (http://www.calm.wa.gov.au)
River Road, Wellington Park
Website: www.naturebase.net
King Jarrah Tree
This majestic large Jarrah Tree can be found near KingTree Wines and Lodge.
Like other giant trees of the South West, King Jarrah offers a chance to view one of nature's older creations. The tree is quite fragile in its old age and can be easily damaged by foot traffic at the base. This old giant is also known to drop branches and even whole limbs with no warning. A timber boardwalk and viewing platform allows visitors to view the tree in safety. For your safety and to protect the tree and understorey plants it is requested that you stay on the boardwalk at all times.
The area around King Jarrah is truly beautiful. The mature stands of yarri, jarrah and marri support an abundance of small birds and mammals. In the early morning you need only sit for a short while to see many of the local species of bird such as the splendid fairy wren, scarlet robin, grey fantail, inland thornbill and golden whistler.
Kingtree Road, Wellington
http://www.calm.wa.gov.au
Mountain Bike Track
The Mount Lennard Mountain bike area contains approximately 40km of trails of varying difficulties for mountain bikers of levels.
Whether you're a beginner or advanced cyclist, and whether you're looking for a relaxing ride or heart-thumping competition, you'll find it in the extensive trail system winding through the Ferguson Valley and Wellington Mill.
The trails tightly weave through the mature jarrah forest, and granite outcrops to provide spectacular views of the lower Collie River Valley. The valley supports unspoiled vegetation, indicative of the cool, damp, microclimate providing habit for marron, kangaroos, cockatoos, many of our native marsupials and over 300 varieties of colorful wildflowers.
The local Noongar, which literally means man, believe that the Collie River Valley is connected to Ngarngungudditj Walgu. This mythical snake like being is said to have come from the north east and created the Collie River, the hills of the Collie River Valley and the Leschenault inlet, before traveling back up the Collie River to rest at Minninup Pool.
25km SE of Bunbury on Pile Road, Dardanup
www.swmtbc.asn.au
Wellington Dam Potter's Gorge
The Wellington Dam has an extensive pioneering history and heritage involved with the construction, and you can learn about this when you visit through the Living Windows interpretation series.
The Wellington reservoir harnesses the most productive catchment in the Southwest providing valuable water for irrigation and domestic consumption. There is even a long-standing hydroelectric turbine powered by the headwaters. Although less often in recent times, the dam does occasionally overflow with water cascading over the entire length of the of the wall, an experience not to be missed.
There are special views from many places in the Wellington Dam Precinct but the Water Corporation's Dam Lookout gives you the impression that you are suspended over the valley. It provides particularly spectacular views over the dam wall and Collie River Gorge. The lookout is a short stroll from the Wellington Dam Kiosk, where there is ample parking.
The Wellington Dam Precinct lies at the end of Wellington Dam Road approximately 15km from the Coalfields Highway. The Wellington Dam Road, itself is a pleasant drive through mixed rural and natural forest landscapes.
Set amongst the magnificent jarrah forest, Potter's Gorge is 11 kilometres south of Coalfields Hwy along Wellington Dam Road. The area is extremely popular and a great alternative to Honeymoon Pool for those seeking open vistas across the lake. Potter's Gorge is a popular recreation destination where you will often find people swimming, canoeing and relaxing . Fishing and marroning are also popular activities. Redfin Perch, Rainbow Trout and Marron (in season only) can be caught in the lake, however a Recreational Fishing License is required (available from the nearest post office) . Other popular activities include picnicking, camping in designated areas and walking along the banks of the dam.
Tom Jones Drive, Collie
www.naturebase.net
Wellington Discovery Forest
The Wellington Discovery Forest is set amongst 1000ha of some the most splendid examples of jarrah, marri and yarri forests.
The vision of Wellington Discovery Forest is a focal point for tourists and school groups to enter into a forest and see the natural processes that occur, the impacts of human beings and the requirements to effectively manage the two.
Tourists can enjoy the walk trails that have self-guiding information along the way. These self-guided walk trails through the forest provide a quiet, back to nature getaway.
Wellington Forest Rd, Wellington Mill
Plan your getaway with these useful links
Visitor Centres
Ferguson Valley Visitor Centre
Find out all you need to know about the Ferguson Valley region by stopping by at our visitor centre, 5 Ferguson Road, Dardanup.
Our friendly volunteer staff will be more than happy to talk with you and point you in the right direction so you get the most from your visit. There's a selection of souvenir gnomes for sale, as well, from just $3.50. The centre is open from 10am-4pm from Friday to Monday.
www.fergusonvalley.net.au
Bunbury Visitors Centre
Bunbury is situated in the heart of the Geographe Region of Western Australia and offers its visitors a unique blend of natural experiences, food, wine, shopping culture and recreation.
Collie Visitors Centre
Our friendly staff have extensive knowledge of the Collie River Valley Region and are happy to help visitors make the most of their stay.
mysouthwest.com.au
Mysouthwest.com.au is a not for profit, community portal for the South West of Western Australia.